Discussion Starter
·
#1
·
Here is what What Car Magazine had to say about the Audi Q2 when they took it for a spin around Havana.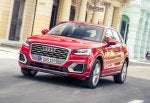 A pint-sized SUV with a posh badge is almost guaranteed to fly out of the showrooms, and we fully expect the Q2 to do just that when it arrives in the autumn. But thankfully it's more than just a fashion accessory; it's good to drive, swanky inside and even pretty practical. Assuming early indications on price aren't too wide of the mark, it also looks good value for money - especially when you take into account the strong resale values a premium badge usually helps command.

We'll reserve final judgement on the Q2's ride until we've driven a production version in the UK. It certainly isn't horrendously firm or crashy, but if you're looking for a really comfortable family SUV there are certainly better options, including our current favourite small SUV, the Nissan Qashqai.
Read the full review here:
http://www.whatcar.com/news/2016-audi-q2-14-tfsi-150-review/