Discussion Starter
·
#1
·
So I took a trip to Teesside Audi. It was in their showroom, all open so you can sit, poke, open and play with it all you like.
Left hand drive and very heavily kitted out, it had pretty much every option.
It arrived first thing on a trailer (along with a lovely LHD S5 coupe also doing a tour). It also had its own detailing team to clean it all up once on display!
Speaking with a sales advisor it had a lot of interest, a fair number had booked slots to see it and plenty of couples in throughout the day.
When I was there around 6.00pm around 4 couples were in to see it. Average age seemed to be 35 - 45.
Exterior
The size is in-between an A3 and Q3. It doesn't look that tall but when you sit in you do feel like you're climbing aboard and it has a decent view all around.
This car was in Vegas Yellow, not something I would pick but it does show off the lines of the car very well. The side in particular with the big creases in looks very good and different to anything else I've seen.
The side blades look fine, decent quality material, does make the car look sporty and you can tell the rear roof slopes back a bit. I like them.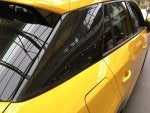 The lights were fantastic, decent front LED driving lights. The rear lights were very nice, not what I was expecting, they are 3D and have big deep creases in them that when lit up look amazing. I tried to photograph them but they don't do it justice.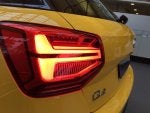 This car had a rear parking camera tucked away under the boot handle.
Twin exhausts.
Dark grey body mouldings and side blades.