Discussion Starter
·
#1
·
Hi

I am wondering if I need a service now for my Q2 1.5 S tronic which was registered in March 2020 but only got collected in May 2020 due to lockdown.

Could I wait for May or another year?

If I need one now, Can I just have a oil change service ? or I need a full service? ( the site says I only need a full service for every 2 years as picture below)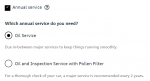 Does anyone know how much a service would cost in Croydon/Wimbledon area? An Audi service plan would cost £528.96 = 24x£22.04. is it normal or expensive? Can I have the Oil Change service for first year and the Oil change & Inspection Service for second year?

I have also read it on this forum for £20 a month it will cover the service for next 3 years. Is it correct?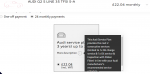 I have tried to ask my local dealer these questions by email but they didn't reply and noone was picking up the calls as well probably due to lockdown.

I would be much appreciated if anyone can give some ideas! Thanks for your help!