Hi - hope you are enjoying your Q2! You chose a great colour
From this screenshot in the manual, are you talking about removing the block labelled as '7' ?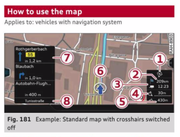 I've never tried to remove it - but if that's what you would like to do, perhaps try this:
• Press the|NAV/MAP| button repeatedly until the map is displayed.
• Select: right control button > Map settings
Scroll down and try toggling the following option:
Route information
The display of route information such as the street you are currently on, upcoming turn-offs, traffic information or special destinations on the current route can be switched on/off.